| | | | |
| --- | --- | --- | --- |
| | Department of Materials Science and Engineering, University of Ioannina www.materials.uoi.gr | Hellenic Society for the Science and Technology of Condensed Matter www.hsstcm.eu | |
Online workshop on
Computational Materials Science
Saturday, 10th December 2022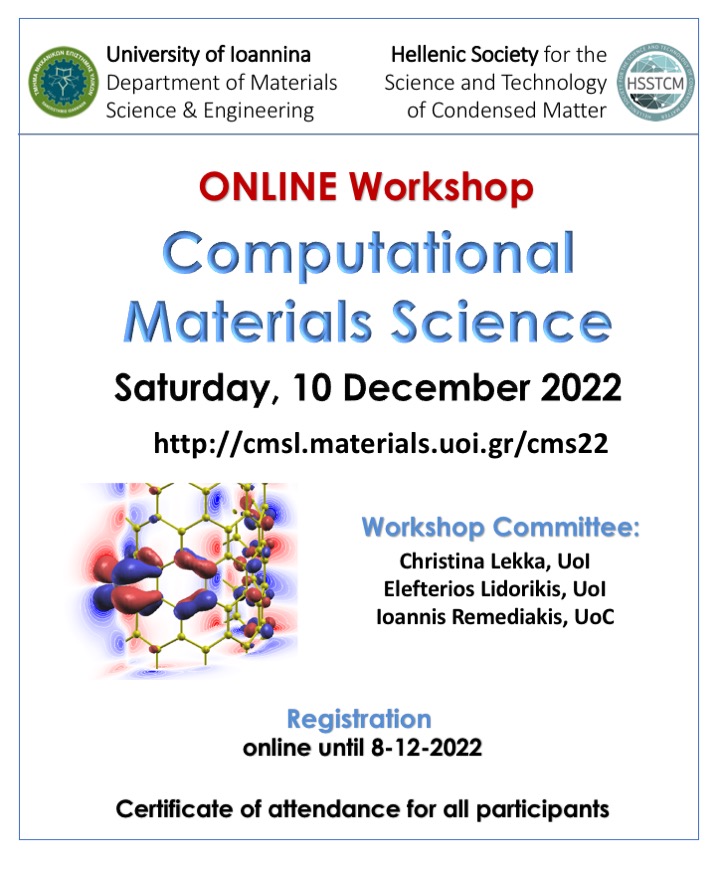 About the workshop
This online training workshop is dedicated to most recent advances in the theory and simulation of Materials. The speakers are well-known experts in their fields. The workshop is aimed to young researchers in theoretical and computational Materials Science, including senior undergraduate students, graduate students, PhD candidates, postdocs and early-career investigators.
The event is co-organized by the Department of Materials Science and Engineering, University of Ioannina and the Hellenic Society for the Science and Technology of Condensed Matter (HSSTCM). .
HSSTCM is a Greek non-profit scientific society founded in 1981 which is member of Federation of European Materials Societies (FEMS). The objectives of HSSTCM is to promote the exchange of new developments and achievements in the field of Condensed Matter and Materials Science, and to support their applications. Membership costs 20 euros (10 euros for students) per year; please visit the HSSTCM webpage for details.
Participation to this workshop is free of charge for HSSTCM or FEMS members.
Participants should have received emails with instructions on how to connect by the end of Dec. 8th. In case you have registered and you have not received such email, please contact the organizers at cms22@uoi.gr
Registration
Registration deadline is Thursday, Dec. 8th, 2022.
To register, please complete the registration form and choose one of the following:
(1) No further action is needed if you are member of HSSTCM or FEMS and you have paid membership fee for 2022 before the registration deadline (recommended for participants from Greece).
(2) Please pay registration fee of 20 euros if you are NOT a member of HSSTCM or FEMS. Payment by transfer to the HSSTCM bank account; account number can be found in the membership application form at the the HSSTCM website.
We encourage participants from Greek Academic Institutions, in particular students, to become members of Hellenic Society for the Science and Technology of Condensed Matter, HSSTCM and participate for free in this workshop
Certificate of attendance will be provided to all participants. Details on how to receive certificates will be posted here after the conference.
---
Participants
Please contact the organizers at cms22@uoi.gr for any inquiries.
---
Program
The duration of each talk is forty minutes, followed by twenty minutes of discussion. Participants are encouraged to participate actively by asking questions after each talk (or even during the talk if speaker permits it) and stimulating discussion.
Please click on Speaker name for affiliation, title and abstract. Alphabetical list of for each session can be found below
Saturday, December 10, 2022
08:45 Welcome
Morning Session: Electronic and Atomistic simulations
09:00-10:00 Panos Argyrakis, AUTh ,
"The percolation model in disordered materials: Application to the breakdown of a tumor microenvironment"

10:00-11:00 Ioannis Skarmoutsos, UoI ,
"Using classical and ab initio molecular dynamics, statistical mechanical theories and structural order parameters to study the phase-behavior of molecular systems: The unique case of water at ambient-pressure liquid up to extreme-pressure supercritical thermodynamic conditions"

11:00-12:00 Zoe Cournia, BRFAA ,
"Nanoparticle Modeling at the Membrane Interface"

Coffee/tea break
12:30-13:30 George Kalosakas, UoP ,
"Calculation of graphene properties using molecular dynamics"

13:30-14:30 Anastasia Rissanou, NHRF ,
"Multi-Scale Modeling of Complex Systems"


Lunch break

Afternoon Session: Superconductivity, photonics, plasmonics and magnetics
15:00-16:00 Dimitrios Papaconstantopoulos, GMU ,
"Pressure-enhanced high temperature superconductivity in hydrides"

16:00-17:00 Kosmas Tsakmakidis, NTUA ,
"Topological 'rainbow trapping' and the time-bandwidth limit"

17:00-18:00 Stavros Komineas, UoC ,
Modeling of antiferromagnets"

18:00-19:00 Leonidas Gergidis, UoI ,
"Computational Materials Science: From Basic Science to Engineering Applications"

19:00-19:15 Closing the CMS22 workshop

Please click on Speaker name for abstract. Full names, affiliations and links to personal websites are listed below
---
Organizing Committee
Ioannis Remediakis
Department of Materials Science and Technology, University of Crete and Institute of Electronic Structure and Laser (IESL), Foundation for Research and Technology Hellas (FORTH)
Elefterios Lidorikis
Department of Materials Science and Engineering, University of Ioannina
Christina Lekka
Department of Materials Science and Engineering, University of Ioannina
Speakers
---
Electronic and Atomistic simulations
---
---
Superconductivity, photonics, plasmonics and magnetics
---
Webpage credits: Ioannis Remediakis and Niki Sorogas